Release details
Detail
Value
Catalogue number
REC 110
Title
More hits from the organist entertains
Artist(s)
Various
Cover condition

Very Good Plus

Record condition

Very Good Plus

BBC records label code

C

Item deleted?

Yes

Released
1971
Distributed / printed by
BBC
Country of origin
UK
Media type
Primary
Media genre

Radio


View all other tracks listed as Radio.
Run-off codes / Shop bar codes
RE + 110 + 1 BBC
RE + 110 + 2 BBC
My rating

***

**

Guest rating

***

**



To vote, please select one of these buttons:
Number have
1
What type of seller was used?

Not recorded

Where can I buy this release?
You may be able to purchase this release from the following websites (others are available!)
Amazon
Discogs
Ebay
EIL
MusicStack
Recordsale
All release pictures
Below is all the cover (front, back, middle and inserts if applicable) and label pictures I have for this release.
Front cover
Back cover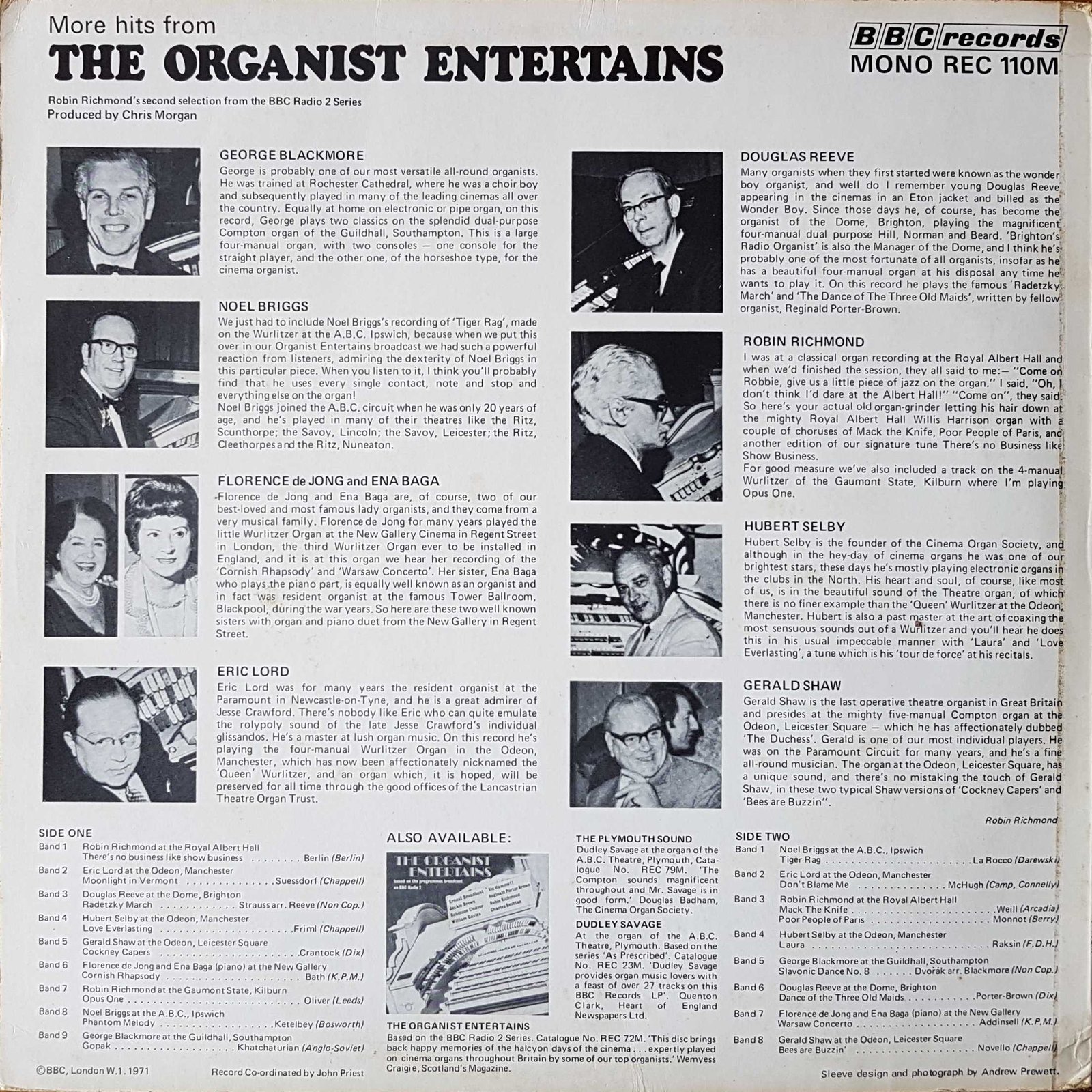 Label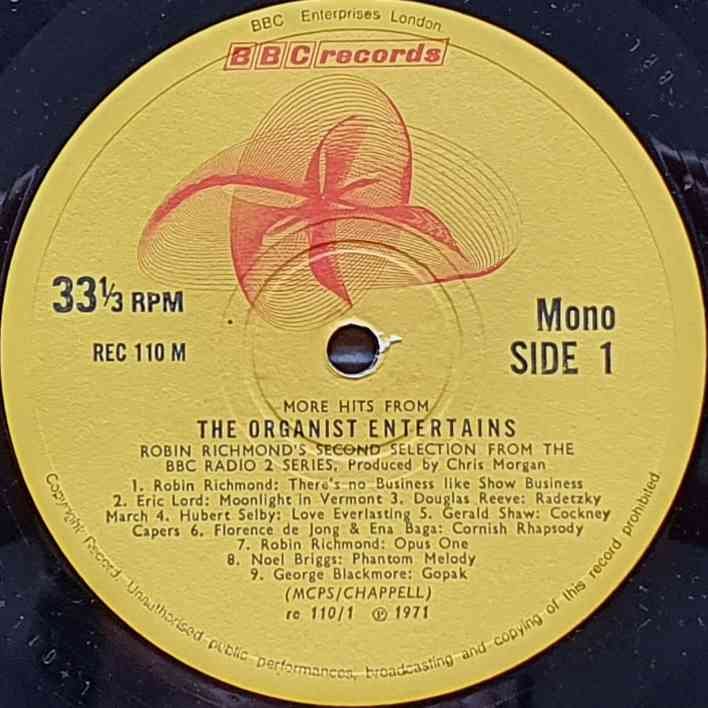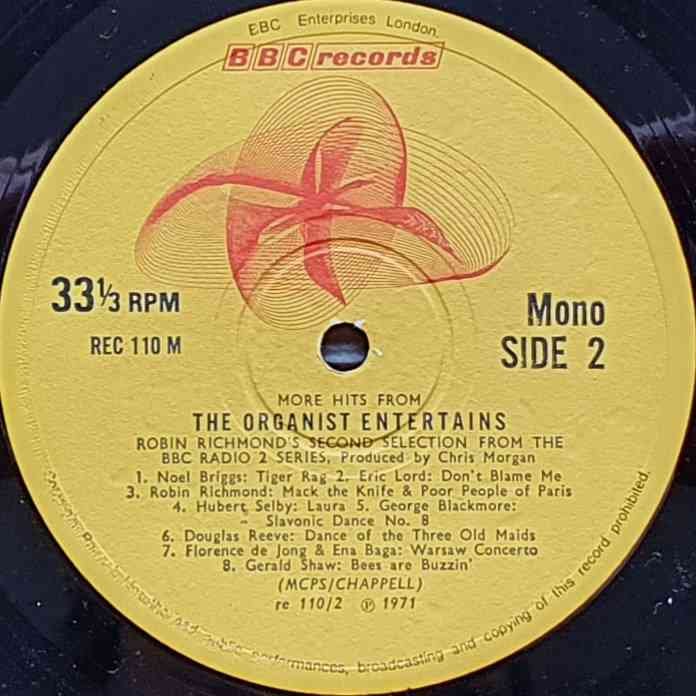 Tracks

Below is a list of tracks for this release.
Side & track
Track and Artist
Length
A1
There's no business like show business [Berlin / Robin Richmond at the Royal Albert Hall]
A2
Moonlight in Vermont [Suessdorf / Eric Lord at the Odeon, Manchester]
A3
Radetzky March [Strauss / Arr. Reeve / Douglas Reeve at the Dome, Brighton]
A4
Love everlasting [Friml / Huburt Selby at the Odeon, Manchester]
A5
Cockney capers [Crantock / Gerald Shaw at the Odeon, Leicester Square]
A6
Cornish rhapsody [Bath / Florence de Jong and Ena Bagas (Piano) at the New Gallery]
A7
Opus one [Oliver / Robin Richmond at the Gaumont State, Kilburn]
A8
Phantom melody [Ketelbey / Noel Briggs at the A. B. C., Ipswich]
A9
Gopak [Khatchaturian / George Blackmore at the Guidehall, Southampton]
B1
Tiger rag [La Rocco / Noel Briggs at the A. B. C., Ipswich]
B2
Don't blame me [McHugh / Eric Lord at the Odeon, Manchester]
B3
Mack the knife, Poor people of Paris [Weill, Monnot / Robin Richmond at the Royal Albert Hall]
B4
Laura [Raksin / Huburt Selby at the Odeon, Manchester]
B5
Slavonic dance no. 8 [Dvorak / Arr. Blackmore / George Blackmore at the Guildhall, Southampton]
B6
Dance of the three old maids [Porter-Brown / Douglas Reeve at the Dome, Brighton]
B7
Warsaw concerto [Addinsell / Florence de Jong and Ena Bagas (Piano) at the New Gallery]
B8
Bees are buzzin' [Novello / Gerald Shaw at the Odean, Leicester Square]
Total length of media 0:00.
Reviews

Below is my review for this release and the ratings.
A good entry, I will include a full review asap!
Ratings
My rating
3
Guest rating
Current average value is 3.

To vote, please select one of these buttons:

Extra notes on cover, middle (gatefold sleeve) and any inserts

GEORGE BLACKMORE
George is probably one of our most versatile all-round organists. He was trained at Rochester Cathedral, where he was a choir boy and subsequently played in many of the leading cinemas all over the country. Equally at home on electronic or pipe organ, on this record, George plays two classics on the splendid dual-purpose Compton organ of thwe Guidehall, Southampton. This is a large four-manual organ, with two consoles - one console for the straight player, and the other one, of the horseshoe type, for the cinema organist.

NOEL BRIGGS
We just had to include Noel Briggs's recording of 'Tiger Rag', made on the Wurlitzer at the A. B. C. Ipswich, because when we put this over in our Organist Entertains broadcast we had such a powerful readction from listeners, admiring the dexterity of Noel Briggs in this particular piece. When you listen to it, I think you'll probably find that he uses every single contact, note and stop and everything else on the organ!

Noel Briggs joined the A. B. C. circuit when he was only 20 years of age, and he's played in many of their theatres like the Ritz, Scunthorpe; the Savoy, Lincoln; the Savoy, Leicester; the Ritz, Cleethorpes and the Ritz, Nuneaton.

FLORENCE de JONG and ENA BAGA
Florence de Jong and Ena Bara are, or course, two of our best-loved and most famous lady organists, and they come from a very musical family. Florence de Jong for many years played the little Wurlitzer Organ at the New Gallery Cinema in Regent Street in London, the third Wurlitzer Organ ever to be installed in England, and it is at this organ we hear her recording of the 'Cornish Rhapsody' and 'Warsaw Concerto'. Her sister, Ena Baga who plays the piano part, is equally well known as an organist and in fact was reisdent organist at the famous Tower Ballroom, Blackpool, during the war years. So here are these two well known sisters with organ and piano duet from the New Gallery in Regent Street.

ERIC LORD
Eric Lord was for many years resident organist at the Paramount in Newcastle-on-Tyne, and he is a great admirer of Jesse Crawford. There's nobody like Eric who can quite emulate the rolypoly sound of the late Jesse Crawford's individual glissandos. He's a master at lush organ music. On this record he's playing the four-manual Wurlitzer Organ in the Odean, Manchester, which has now been affectionately nicknamed the 'Queen' Wurlitzer, and an organ which, it is hoped, will be preserved for all time through the good offices of the Lancastrian Theatre Organ Trust.

DOUGLAS REEVE
Many organists when they first started were known as the wonder boy organist, and well do I remember young Douglas Reeveappearing in the cinemas in an Eton jacket and billed as the Wonder Boy. Since those days he, of course, has become the organist of the Dome, Brighton, playing the magnificent four-manual dual purpose Hill, Norman and Beard. 'Brighton's Radio Organist' is also the Manager of the Dome, and I think he's probably one of the most fortunate of all organists, insofar as he has a beautiful four-manual organ as his disposal any time he wants to play it. On this reord he plays the famous 'Radetzky March' and 'The Dance of The Three Old Maids', written by fellow organist, Reginald Porter-Brown.

ROBIN RICHMOND
I was at a classical organ recording at the Royal Albert Hall and when we'd finished the session, thay all said to me:- ''Come on Robbie, give us a little piece of jazz on the organ.'' I said, ''Oh, I don't think I'd dare at the Albert Hall'' ''Come on'', they said. So here's your actual old organ-grinder letting his hair down at the mighty Royal Albert Hall Willis Harrison organ with a couple of choruses of Mack the Knife, Poor People of Paris, and another edition of our signature tune There's no Business like Show Business.

For good measure we've also included a track on the 4-manual Wurlitzer of the Gaumont State, Kilburn where I'm playing Opus One.

HUBERT SELBY
Hubert Selby is the founder of the Cinema Organ Society, and although in the hey-day of cinema organs he was one of our brightest stars, these days he's mopstly playing electronic organs in the clubs in the North. His heart and soul, of course, like most of us, is in the beautiful sound of the Theatre organ, of which there is no finer example that the 'Queen' Wurlitzer at the Odeon, Manchester. Hubert is also a part master at the art of coaxing the sensuous sounds out of a Wurlitzer and you'll hear he does this in his usual impeccable manner with 'Laura' and 'Love Everlasting', a tune which is his 'tour de force' at his recitals.

GERALD SHAW
Gerald Shaw is the last operative theatre organist in Great Britain and presides at the mighty five-manual Compton organ at the Odeon, Leicester Square - which he has affectionately dubbed 'The Duchess'. Gerald is one of our most individual players. He was on the Paramount Circuit for many years, and he's a fine all-round mkusician. The organ at the Odeon, Leicester Square, has a unique sound, and there's no mistaking the touch of Gerald Shaw, in these two typical Shaw versions of 'Cockney Capers' and 'Bees are Buzzin''.
ROBIN RICHMOND

Further information

BBC Radio Enterprises Ltd and BBC Enterprises Ltd, predecessors of BBC Worldwide / BBC Worldwide Ltd., the BBC's commercial arm. Formed 1968 and 1979 respectively, they were a subsidiary wholly owned by the BBC and merged into BBC Worldwide in 1995. In that time, there were companies set up within or structured brands as part of the company to deal with separate parts of the business, e.g. BBC Records for recorded audio. Sometimes written as BBC Enterprise Ltd.

The items shown here are from the "main" BBC Records and Tapes library covering a wide secletion of genres from themes, comedy dramas and others, depending on which format you have selected.
Statistics
Here are some statistics about this page.
This page was last updated on 08-01-2022 at 23:45:46 UK local time.

This record has been seen 606 times since 20th May, 2017.
Other releases you might be interested in
Below are some other releases which are related to REC 110 based on its genre.