Release details
Detail
Value
Catalogue number
BBCDVD 1186
Title
Blake's 7 - Series 4
Artist(s)
Chris Boucher / Ben Steed / Robert Holmes / James Follett / Allan Prior / Roger Parkes / Rod Beacham / Bill Lyons / Tanith Lee / Colin Davis / Simon Masters
Cover condition

Near mint

Record condition

Near mint

BBC records label code

-

Item deleted?

No

Released
1981
Distributed / printed by
BBC Worldwide Ltd
Country of origin
UK
Media type
Primary
Media genre

Dramas - Sci-fi


View all other tracks listed as Dramas - Sci-fi.
Run-off codes / Shop bar codes
A0100675884-A911 17 A 2
A0100675885-A922 18 A 1
A0100682833-A933 16 A 1
A0100675887-A944 17 A 7
A0100686447-A955 16 A 7
My rating

***

**

Guest rating

***

**



To vote, please select one of these buttons:
Number have
1
What type of seller was used?

Physical shop

Where can I buy this release?
You may be able to purchase this release from the following websites (others are available!)
Amazon
Discogs
Ebay
EIL
MusicStack
Recordsale
All release pictures
Below is all the cover (front, back, middle and inserts if applicable) and label pictures I have for this release.
Front cover
Back cover
Middle of cover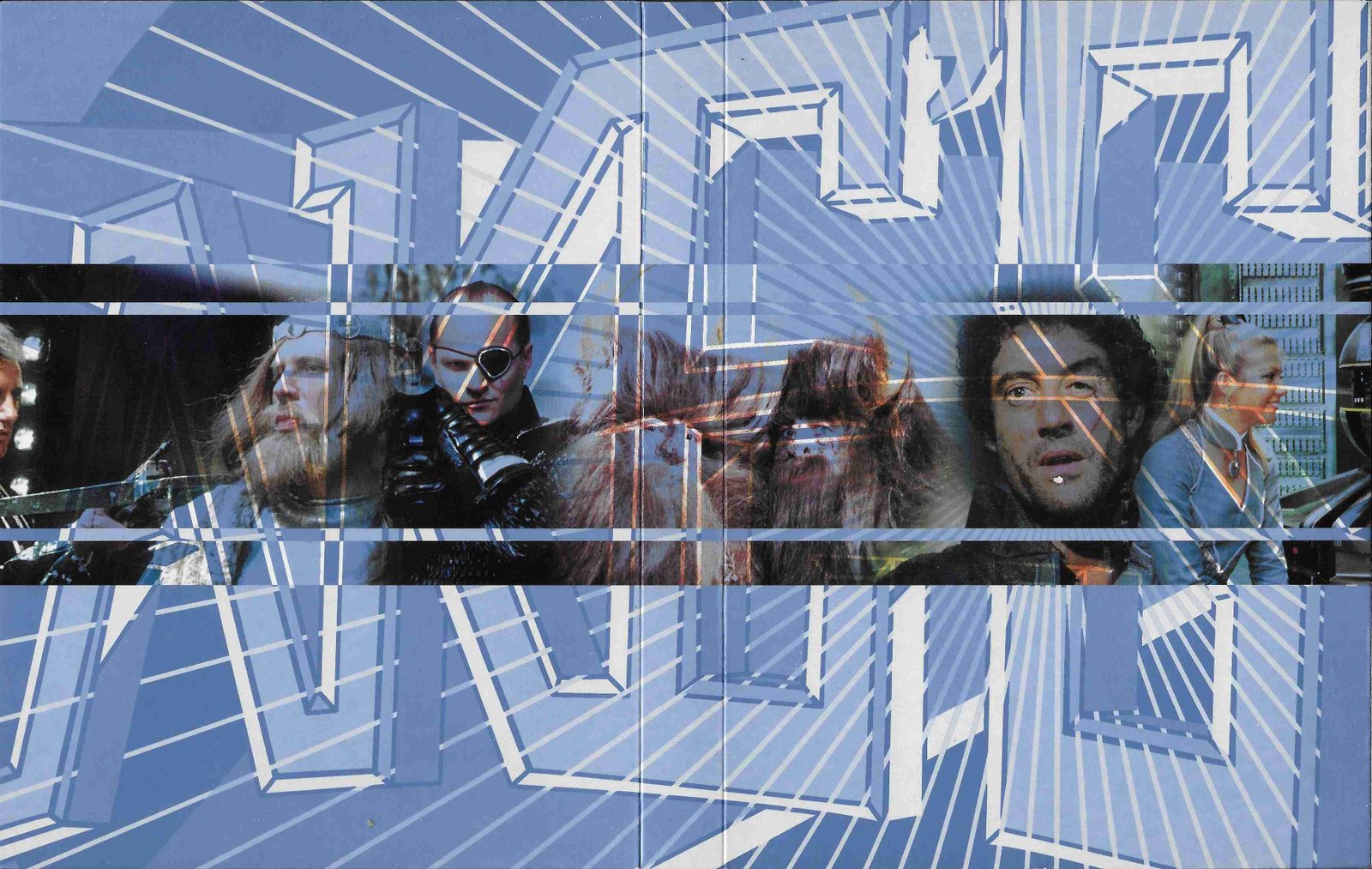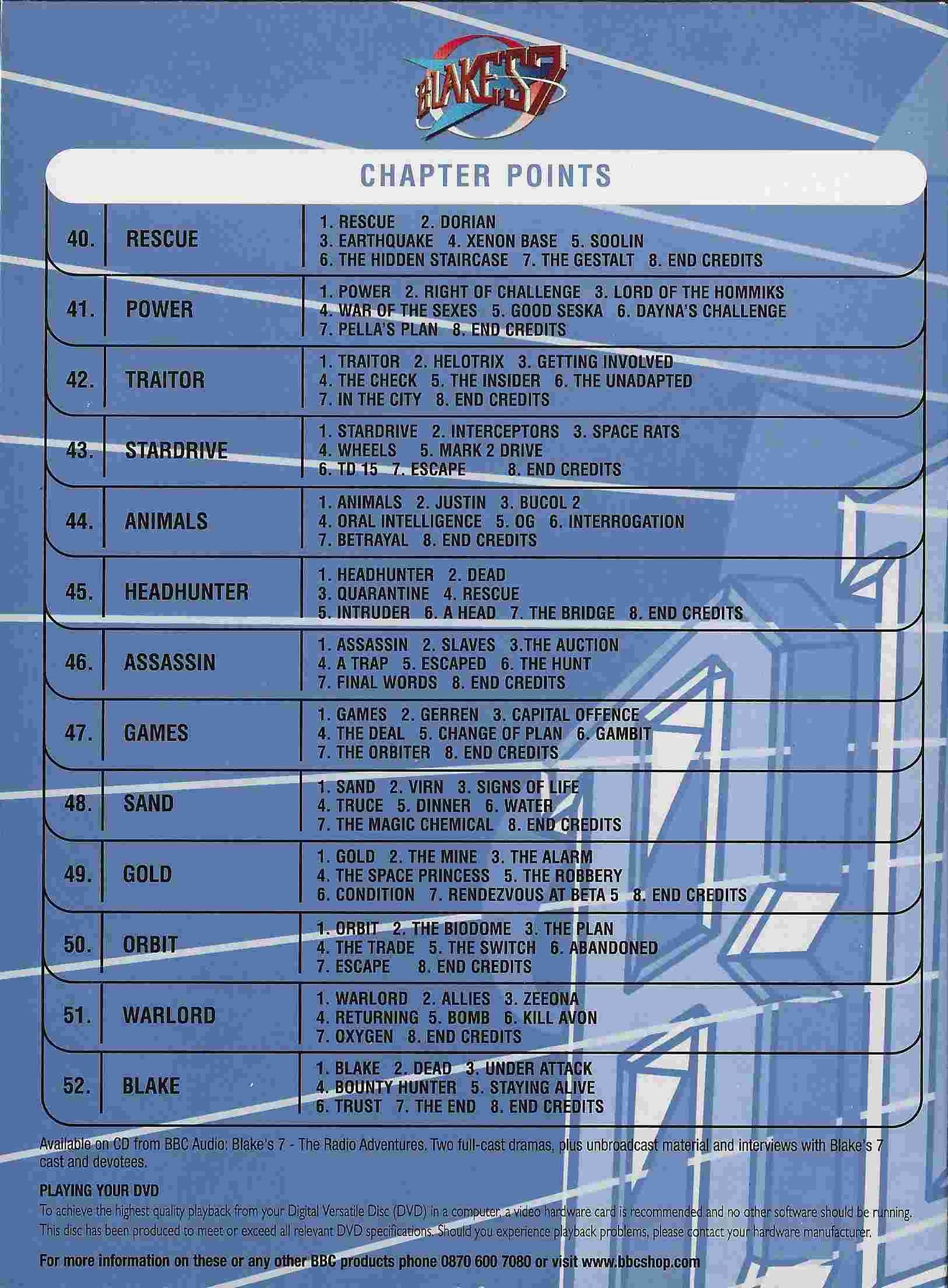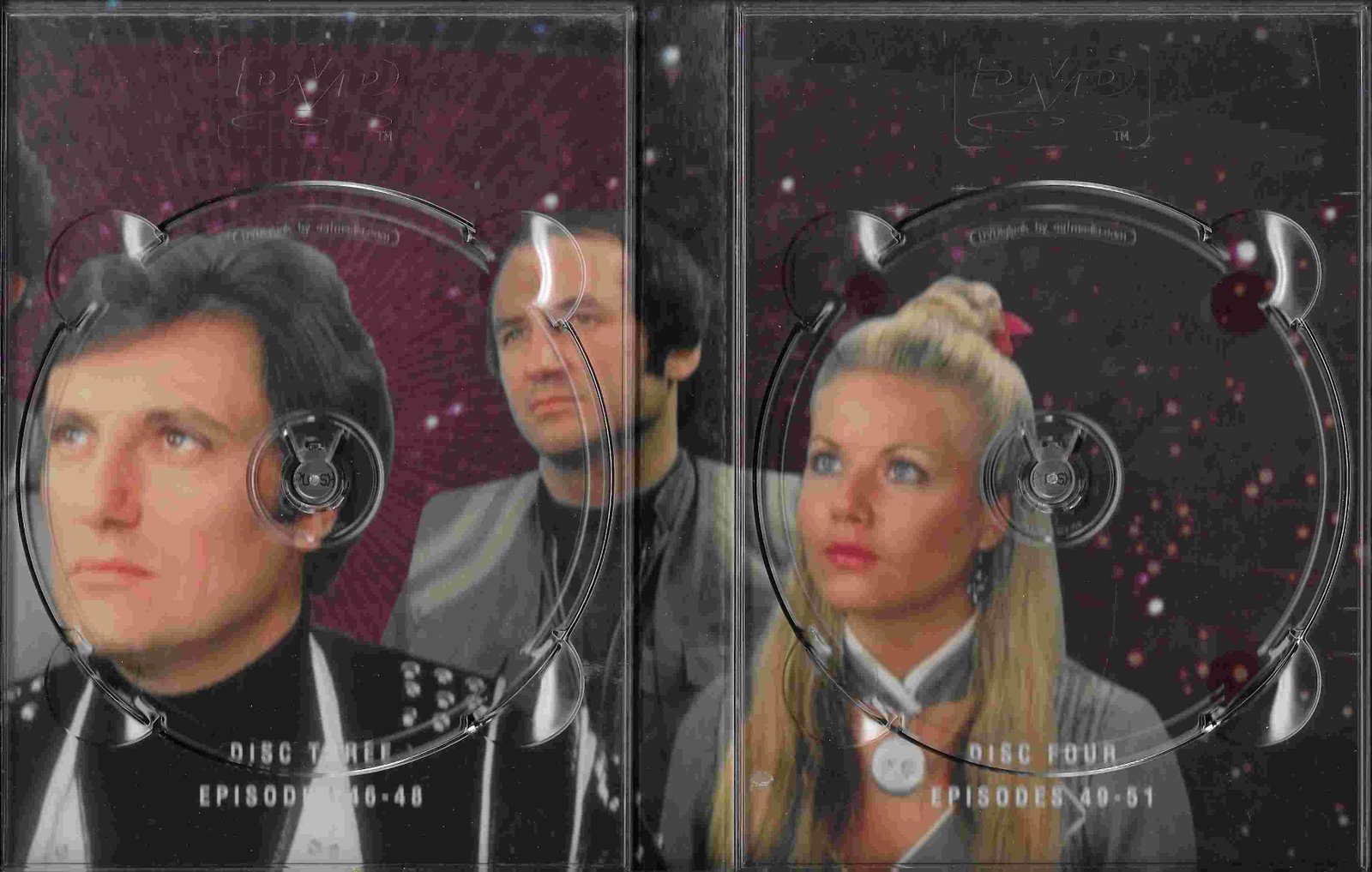 Label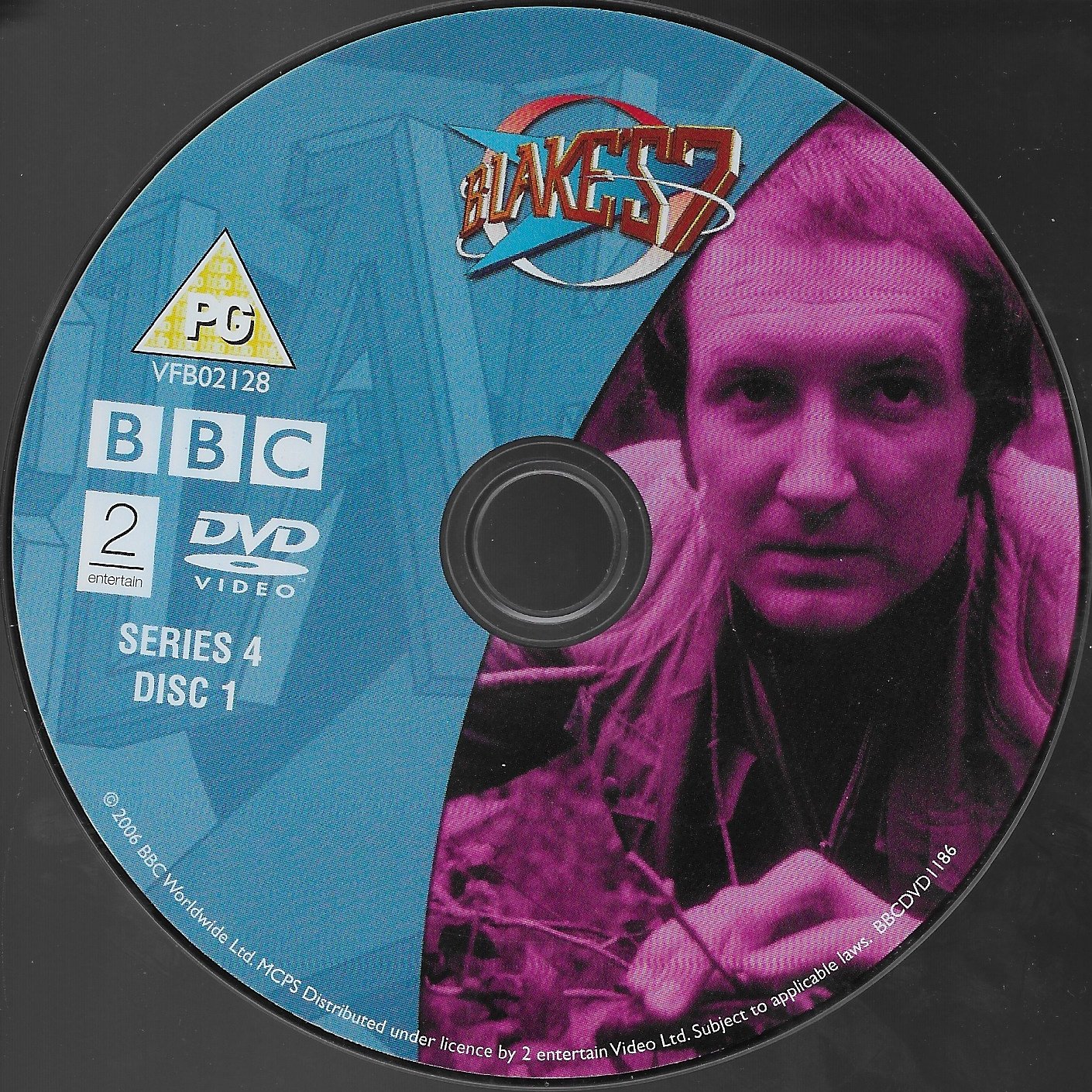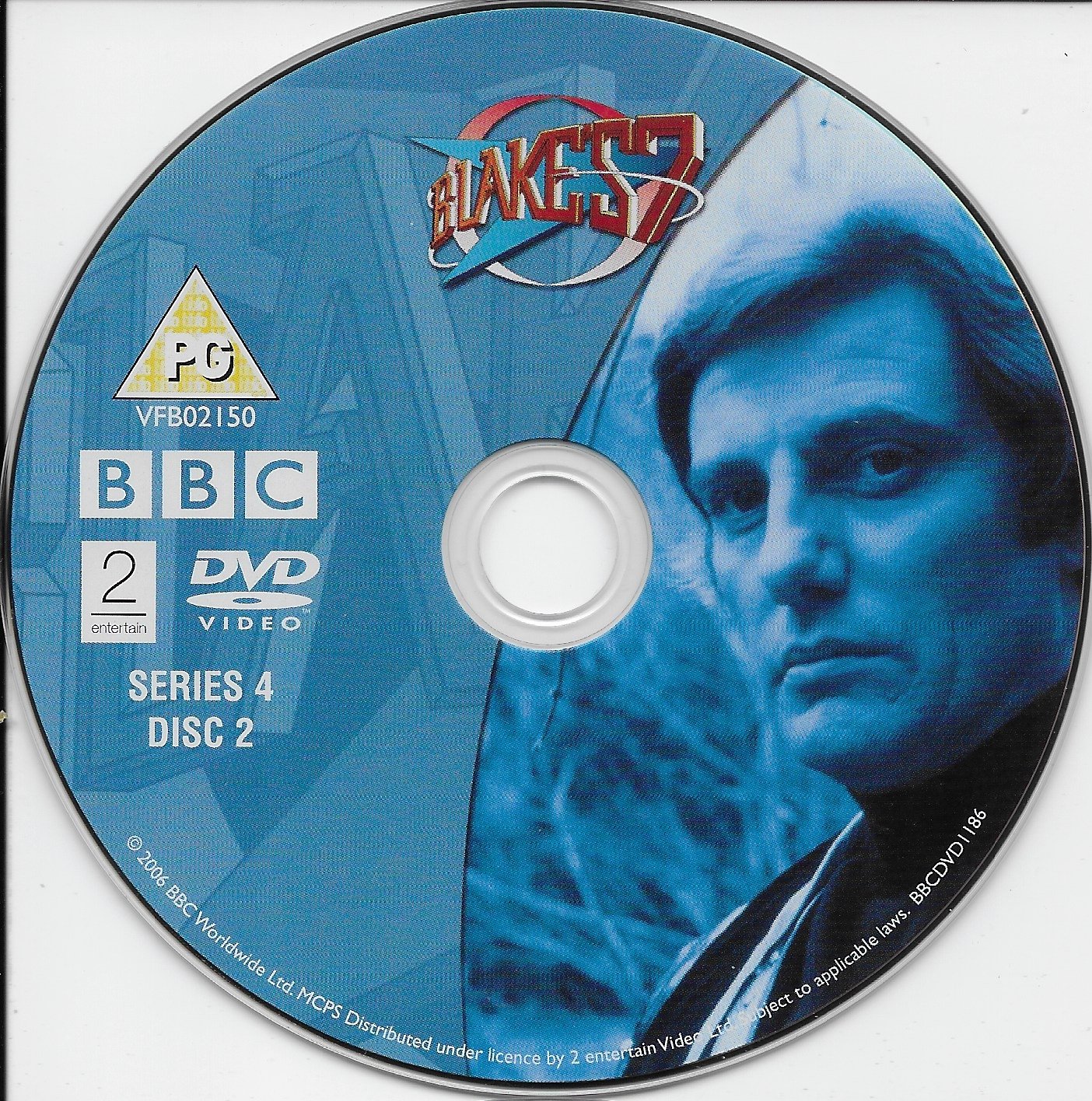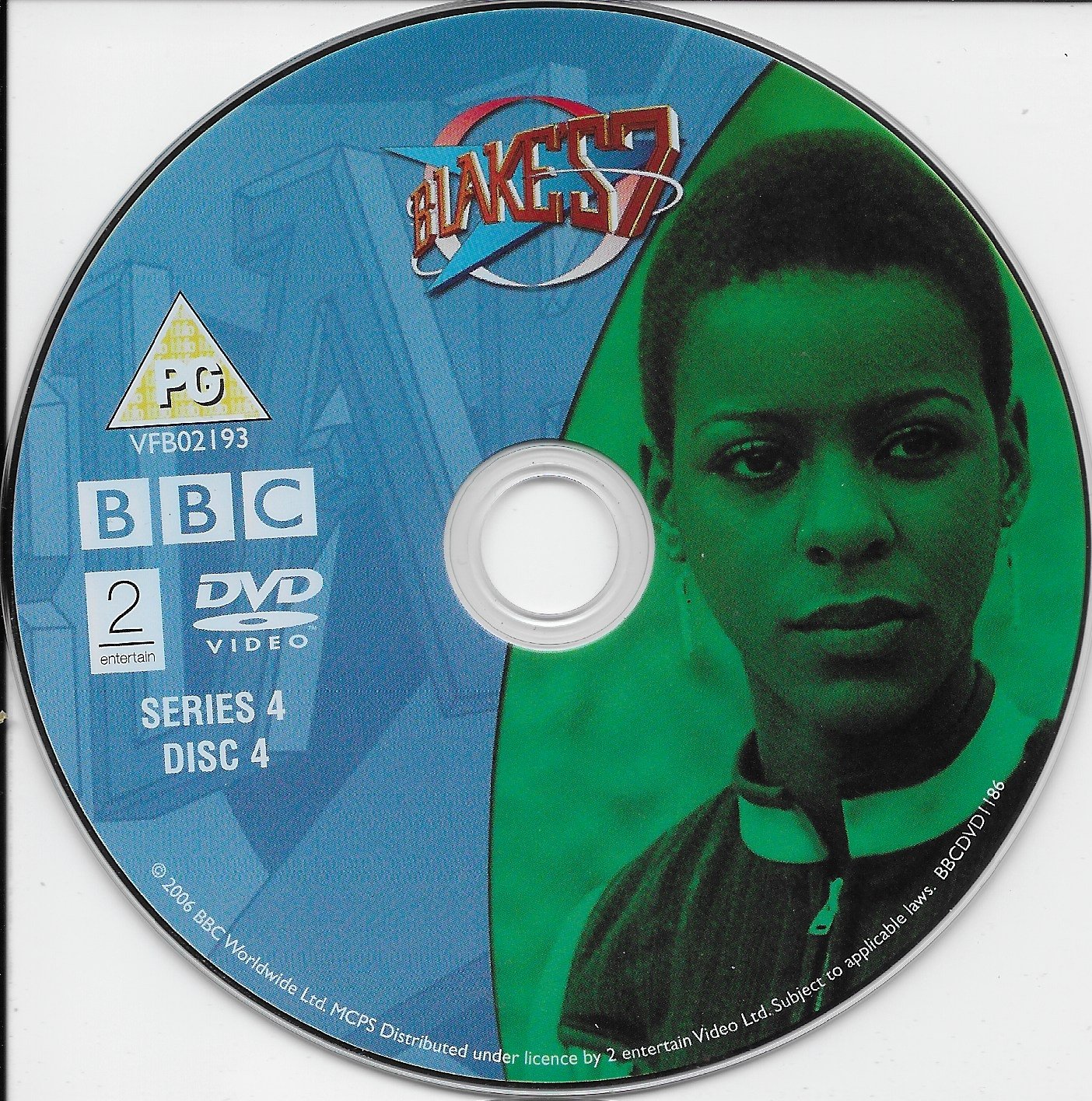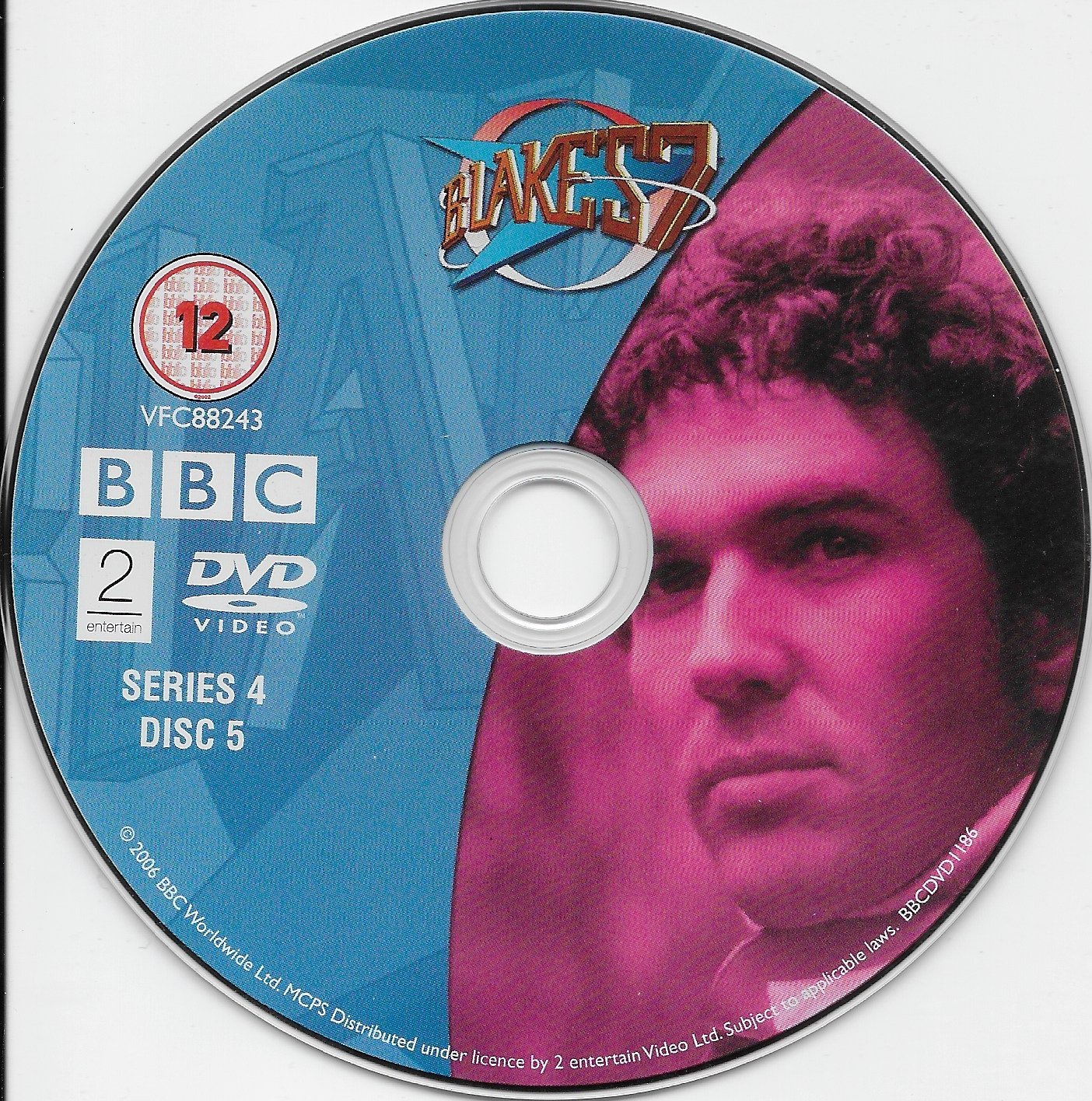 Tracks

Below is a list of tracks for this release.
Side & track
Track and Artist
Length
A1
Rescue
49.53
A2
Power
49.59
A3
Traitor
49.23
B1
Stardrive
49.04
B2
Animals
50.00
B3
Headhunter
49.34
C1
Assassin
49.33
C2
Games
49.30
C3
Sand
48.53
D1
Gold
48.32
D2
Orbit
48.39
D3
Warlord
49.12
E1
Blake
49.43
E2
Introducing Soolin
2.32
E3
Introducing Slave
1.52
E4
Blake's bloops
15.45
E5
Liz Parker on Pebble Mill
5.08
E6
Blue Peter
8.51
E7
Len Ledsham's B7 designs
31.08
E8
Special sounds - Radiophonics
38.51
E9
Forever Avon
30.10
E10
Clean titles
0.59
E11
Studio recordings - Games 1 "Eyes locked"
11.36
E12
- Games 2 "Standby to lurch"
2.37
E13
- Gold, guns and airlocks
6.46
E14
Terry Nation on series 4
2.18
E15
Episode synopses
E16
DVD credits
Total length of media 13:20:28.
Reviews

Below is my review for this release and the ratings.
A good entry, I will include a full review asap!
Ratings
My rating
3
Guest rating
Current average value is 3.

To vote, please select one of these buttons:

Extra notes on cover, middle (gatefold sleeve) and any inserts




Starring


Paul Darrow (Kerr Avon)
Michael Keating (Vila Restal)
Josette Simon (Dayna Mellanby)
Steven Pacey (Del Tarrant)
Glynis Barber (Soolin)
Peter Tuddenham (Slave)
Peter Tuddenham (Orac)
Regulars
Jacqueline Pearce (Servalan)
Others
Geoffrey Burridge - Dorian (Part 1)
Rob Middleton - Creature (Part 1)
Dicken Ashworth - Gunn Sar (Part 2)
Juliet Hammond-Hill - Pella (Part 2)
Jenny Oulton - Nina (Part 2)
Alison Glennie - Kate (Part 2)
Paul Ridley - Cato (Part 2)
Linda Barr - Luxia (Part 2)
Malcolm Stoddard - Leitz (Part 3)
Christopher Neame - Colonel Quute (Part 3)
Robert Morris - Major Hunda (Part 3)
Edgar Wreford - Forbus (Part 3)
John Quentin - Practar (Part 3)
Nick Brimble - General (Part 3)
Neil Dickson - Avandir (Part 3)
David Quilter - The Tracer (Part 3)
Cyril Appleton - Sgt. Hask (Part 3)
George Lee - Igen (Part 3)
Barbara Shelley - Dr. Plaxton (Part 4)
Damien Thomas - Atlan (Part 4)
Peter Sands - Bomber (Part 4)
Leonard Kavanagh - Napier (Part 4)
Peter Byrne - Justin (Part 5)
Kevin Stoney - Ardus (Part 5)
David Boyce - Og (Part 5)
Max Harvey - Borr (Part 5)
William Lindsay - Captain (Part 5)
Ralph Morse - Animal (Part 5)
John Westbrook - Muller (Part 6)
Lynda Bellingham - Vena (Part 6)
Nick Joseph - Android (Part 6)
Douglas Fielding - Technician (Part 6)
Lesley Nunnerley - Voice (Part 6)
Richard Hurndall - Nebrox (Part 7)
Caroline Holdaway - Piri (Part 7)
Betty Marsden - Verlis (Part 7)
John Wyman - Cancer (Part 7)
John Attard - Benos (Part 7)
Adam Blackwood - Tok (Part 7)
Mark Barratt - Servalan's captain (Part 7)
Stratford Johns - Belkov (Part 8)
Rosalind Bailey - Gambit (Part 8)
David Neal - Gerren (Part 8)
James Harvey - Guard (Part 8)
Stephen Yardley - Reeve (Part 9)
Daniel Hill - Chasgo (Part 9)
Jonathan David - Keller (Part 9)
Peter Craze - Servalan's assistant (Part 9)
Michael Gaunt - Computer (Part 9)
Roy Kinnear - Keiller (Part 10)
Anthony Brown - Doctor (Part 10)
Dinah May - Woman passenger (Part 10)
Norman Hartley - Pilot (Part 10)
John Savident - Egrorian (Part 11)
Larry Noble - Pinder (Part 11)
Roy Boyd - Zukan (Part 12)
Bobbie Brown - Zeeona (Part 12)
Dean Harris - Finn (Part 12)
Simon Merrick - Boorva (Part 12)
Rick James - Chalsa (Part 12)
Charles Augins - Lod (Part 12)
Brian Spink - Mida (Part 12)
Gareth Thomas - Roj Blake (Part 13)
David Collings - Deva (Part 13)
Sasha Mitchell - Arlen (Part 13)
Janet Lees Price - Klyn (Part 13)



Written by


Chris Boucher (Parts 1, 13)
Ben Steed (Part 2)
Robert Holmes (Parts 3, 11)
James Follett (Part 4)
Allan Prior (Part 5)
Roger Parkes (Part 6)
Rod Beacham (Part 7)
Bill Lyons (Part 8)
Tanith Lee (Part 9)
Colin Davis (Part 10)
Simon Masters (Part 12)
Script editor
Chris Boucher



Produced by


Vere Lorrimer



Directed by


Mary Ridge (Parts 1, 2, 5, 6, 13)
David Sullivan Proudfoot (Parts 3, 4)
David Sullivan Proudfoot and Vere Lorrimer (uncredited) (Part 7(
Vivienne Cozens (Parts 8, 9)
Brian Lighthill (Parts 10, 11)
Viktors Ritelis (Part 12)



Synopsis


Episode 1
With the Liberator destroyed, the crew are stranded on the mysterious planet Terminal. The only means of escape lies in Servalan's ship, which she has booby-trapped; Cally is killed in the ensuing explosion. The detonation also destroys the underground base and begins triggering chain reactions through the entire planet. Soon, a ship called Scorpio arrives, piloted by a shady salvage operator named Dorian. With moments before the whole planet explodes, Avon and Tarrant force Dorian at gunpoint to get them off-world. Dorian takes them back to his elaborate underground base on the planet Xenon, where they meet his partner Soolin. Once settled in, Dorian sabotages the team's weapons and then reveals his plans for Orac to help build a working teleport system for his ship. He also holds another dark secret: a bizarre immortal connection to a life-draining entity that lurks in the caverns below his base, to which he intends to sacrifice the Liberator crew.

Episode 2
With Dorian eliminated, the rest of the crew find themselves trapped in the underground base with the only means of escape, the freighter Scorpio, locked behind an impenetrable security door that Vila cannot open. Matters are complicated further when Vila discovers a "nuclear compression bomb" planted by Dorian and the timer is counting down. If triggered, the bomb will create a short-lived black hole large enough to destroy the base. Meanwhile, on the surface of the planet, Avon is captured by the Hommicks, a native tribe of men who are in the midst of a gender war with the nearly extinct female tribe called the Seska who possess telekinetic powers enhanced by a rare dynamon crystal. Eventually, the last two Seska help disable the bomb, but once the door is opened, one Seska, Pella, tries to take the Scorpio for herself, killing the other in the process. Avon, with help from Orac, uses the dead Seska's crystal to complete Dorian's teleporter and manages to kill the last Seska. Afterward, Soolin agrees to join Avon's group.

Episode 3
The Federation is expanding once again at an alarming rate, and with the annex of the most recent world Helotrix, Avon decides to go there to find out how the Federation is doing it. He sends Dayna and Tarrant down to spy, and they soon come across a resistance group led by a man named Hunda. It is soon discovered that the Federation is using a swift acting pacification drug, Pylene-50, and the operation is being led by a new security commissioner named Sleer. With Hunda's help, Tarrant and Dayna make contact with Leitz, a Federation officer who has been leaking information to the resistance. Leitz reveals where the drug is being made and a possible antidote, and Tarrant decides to put a stop to it despite Avon's orders not to get involved. However, Leitz is not a traitor after all, but acting under Sleer's orders to set up an ambush. When the trap is sprung, Tarrant and Dayna finally catch a glimpse of the mysterious Commissioner Sleer who is revealed to be Servalan.

Episode 4
The crew tries to sneak into a heavily patrolled system to look for fuel. Knowing the Scorpio is too slow, Avon decides to drift alongside an asteroid to avoid detection, but instead collides with it during the risky manoeuvre. While carrying out repair work, the crew witness three Federation ships explode by no apparent cause. Analysing the explosions, it is discovered that the ships were attacked by very fast-moving craft. Orac identifies the ships as "space choppers" which utilise an experimental photon drive developed by a maverick scientist named Dr. Plaxton. Avon decides to use this drive for Scorpio, but to get one, they have to find Plaxton who is working for the "Space Rats" a gang of crazed delinquents who reside on the planet Caspar.

Episode 5
Dayna and Tarrant arrive at the planet Bucol II, where Dayna tracks down a former colleague of her father, a genetic scientist named Justin. Once down, she is attacked by strange humanoid beasts until Justin saves her. In orbit, the Scorpio comes under attack by Federation ships and Tarrant is forced to abandon Dayna and flee back to base for repairs. Back on Bucol, Dayna tries to convince Justin into helping synthesise an antidote to the Federation's pacification drug, but is appalled by his former work in creating genetic super-soldiers for the Federation, evidence of which are the beasts he created. Meanwhile, Servalan learns about Justin's secret project on Bucol and goes there to investigate. She manages to capture Dayna and brainwashes her into helping capture her friend.

Episode 6
Vila and Tarrant arrive at Pharos to pick up Dr. Muller, a brilliant cyberneticist that Avon hopes to recruit to their cause. Once aboard the Scorpio, Muller reacts violently to a mysterious box Tarrant brings back with them. Vila tries to subdue Muller but ends up killing him when he strikes him with a wrench. Muller's body is put into a cryogenic capsule, but soon Scorpio loses power and life support. While the ship is stranded in orbit of Xenon, Tarrant and Vila are rescued by the others, but Muller, who was thought to be dead, has disappeared. It is soon learned that Muller is really an unstoppable android that killed its creator and took his severed head to trick everyone. The robot sneaks down to the base and plans to somehow "merge" with Orac, hoping their combined AI powers will make them invincible. The only solution to stop it may be the contents of the strange boxthe android's real head.

Episode 7
The Scorpio crew goes to the slaver planet Domo with information that Servalan has hired a notorious assassin named "Cancer" to eliminate them. Almost nothing is known of this killer, not even what he looks like, but only that he has an infallible record. Avon allows himself to be captured as a slave in hopes of intercepting Servalan first, but he is too late as Cancer has already left the planet. With the help of a slave named Nebrox, Avon escapes and tracks down Cancer's ship where he and Tarrant teleport aboard. They find Cancer with a young slave girl named Piri and manage to take him prisoner. Avon then plans to wait for Servalan believing she will arrive to give Cancer his payment, but instead they have fallen for an elaborate trap when the assassin reveals their true identity.

Episode 8
A man named Belkov, who enjoys sophisticated games of skill, is running a Feldon crystal extraction operation on Mecron II for Servalan. In reality, he's ripping her off by taking a large cut of the crystal for himself, which has unlimited energy potential and far more valuable than diamond. Servalan suspects Belkov's treachery and threatens to kill him, but not before learning where he has hid the crystal. In the meantime, Belkov has contacted Avon promising the stolen crystal in exchange for rescuing him. As always, Avon remains suspicious, and rightly so as Belkov is using the rescue plan to instead pin the missing crystal on the Scorpio crew.

Episode 9
Servalan arrives at the planet Virna world covered in strange green sandto find out what happened to a group of Federation researchers who went missing five years earlier, soon after uncovering a substance with unique energy potential. The Scorpio crew follow her to the planet, curious to find out what she is up to. When Servalan arrives, her ship is disabled and her associate, Investigator Reeve, turns against her. She finds herself alone until encountering Tarrant, who teleported down with Dayna to track her. The two must work together to survive and find shelter in a bunker against the green sand, which seems to be a living, intelligent lifeform. Meanwhile, a strange energy storm cripples Scorpio preventing it from performing a rescue.

Episode 10
Keiller, an old acquaintance of Avon, informs him of the secret transport of gold from the planet Zerok to the Federation via a passenger liner, the Space Princess. Keiller plans to steal the gold but needs help, and offers Avon and the others a cut of the loot. However, the scheme involves getting the gold off Zerok before it is processed into "black gold"an atomically altered version that is worthless until it is converted back into normal gold via an encoded computer process. Keiller leads the break-in of the Zerok facility, but the team is ambushed as the guards have been tipped offa set-up by Servalan. Avon decides to hijack the next black gold shipment from the Princess itself and sell it back to Servalan, but this move could be part of her elaborate plan to profit enormously.

Episode 11
A renegade scientist named Egrorian summons Avon to the hostile planet Malodar with an offer Avon can't refuse. Avon shuttles down with Vila, and meets the scientist and his assistant Pinder. They are given a demonstration of Egrorian's "Tachyon Funnel", a powerful weapon that can destroy anything in the universe by harnessing the power of super-dense stellar matter; all Egrorian wants for trade is Orac. Avon reluctantly considers the deal, but returns later with Orac; Egrorian hands over the weapon system. Servalan is secretly behind the transfer, and while Avon and Vila shuttle back to Scorpio, Egrorian discovers the traded Orac is a fake. However, he has rigged the shuttle to crash; Avon is faced with jettisoning the weapon as well as Vila in order to cut the weight of the ship and reach escape velocity.
Note: This episode was inspired by Tom Godwin's The Cold Equations.

Episode 12
Avon calls a meeting on Xenon between the five most powerful factions resisting the Federation. One of the members, Zukan, the leader of planet Betafarl, is really under Servalan's influence and has secretly planted bombs to destroy the base and likewise unleash a radioactive virus that can kill any survivors. Once Zukan departs, the bombs go off, but unbeknownst to him, his daughter Zeeonawho is Tarrant's lover had stayed behind on the base. Zukan himself is then double-crossed by Servalan who had planted a bomb on his ship and sent it spinning out of control. On Scorpio, Avon and Soolin rush back to Xenon to save the others but time is running out. Their only hope may be helping Zukan first, who is the only one who knows how to stop the virus.
Note: This episode features the last appearance of Servalan.

Episode 13
Afraid that the Federation knows the location of Xenon base, the Scorpio crew destroy what is left of it. Avon then reveals that he has pondered the finding of a new leader for their resistance that everyone will support and he believes that person is none other than Blake himself. Orac believes he is alive and has tracked him to the formerly lawless world of Gauda Prime. Arriving there, Scorpio comes under a sneak attack by patrol ships and is forced down. Everyone manages to teleport to safety while Tarrant stays behind to stabilise the ship. Meanwhile, Blake who is indeed alive and posing as bounty hunter, rescues Tarrant from the wreck and brings him back to base. There he learns Tarrant is part of Avon's rebel team and implies to Tarrant that he will turn them in to the Federation for the bounty. Tarrant manages to get away not realising that Blake is simply testing his loyalty. Tarrant meets Avon and the others and they confront Blake. Before Blake can convince Avon he's still on their side, Avon shoots and kills him. Suddenly, a squad of Federation troops run in and efficiently shoot everyone down save for Avon. Avon does not surrender, but smiles and stands over Blake's body and raises his gun. The screen goes to final credits with the sound of guns firing. The fate of Orac is unknown.

External links

Also have a look at this external site, see link button below. Note, I am not responsible for content on external sites:

Further information

BBC Radio Enterprises Ltd and BBC Enterprises Ltd, predecessors of BBC Worldwide / BBC Worldwide Ltd., the BBC's commercial arm. Formed 1968 and 1979 respectively, they were a subsidiary wholly owned by the BBC and merged into BBC Worldwide in 1995. In that time, there were companies set up within or structured brands as part of the company to deal with separate parts of the business, e.g. BBC Records for recorded audio. Sometimes written as BBC Enterprise Ltd.

The items shown here are from the "main" BBC Records and Tapes library covering a wide secletion of genres from themes, comedy dramas and others, depending on which format you have selected.
Statistics
Here are some statistics about this page.
This page was last updated on 17-04-2022 at 20:45:31 UK local time.

This record has been seen 1184 times since 20th May, 2017.
Other releases you might be interested in
Below are some other releases which are related to BBCDVD 1186 based on its genre.